Thin Man - History of J/92 #14
J/92 hull #14 was constructed in 1993 by Tillotson-Pearson Inc. in Rhode Island.
The boat's previous owners according to USCG documentation are:
CHRISTOPHER GRAHAM ORR
CLIFTON O DUMMETT JR
ROBERT J HUGHES
JEFFREY J RODRIGUEZ
It's quite likely that hull #14 was not originally documented with the US Coast Guard and consequently the original owner is not on the list above. The owner may have been Joe Swain of Jackson, MS. At some point in her history, he owned hull #14 and called it "J-Kazum". Joe sold her and bought hull #22, which he also named "J-Kazum".
With Clifton Dummett Jr. as the owner, she sailed in the New Orleans area (Lake Pontchartrain, apparently).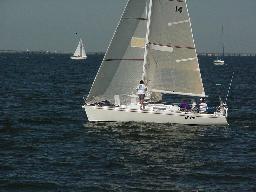 She took the name "Coyote" with a change of owner and a relocation to Galveston Bay in early 2000. By process of elimination, this owner is probably Robert J. Hughes of Houston.
Chris Orr bought "Coyote" in 2002 and moved her to Marina del Rey in Southern California. Due to her rough condition, he gutted the interior and completely refitted her, naming her "Tangaroa".
In July 2004, she was sold to Jeff Rodriguez, who kept the name and moved her to San Diego.
The current owner found the listing on YachtWorld.com the day it was posted and completed the purchase on March 21, 2007, changing the name to "Thin Man" and trucking it from San Diego to New York City.
At some point, she was raced very competitively at Key West and the crew allegedly included Charlie Ogletree and Johnny Lovell, both two-time Olympians in the Tornado Class.
This page will be updated as more information about hull #14's history is uncovered.